Packaging Material for Fruits and Vegetables
PHT of Fruits and Vegetables
Modern packaging must comply with the following requirements
The package must have sufficient mechanical strength to protect the contents during handling, transportation, and stacking.

The packaging material must be free from chemical substances (toxic to humans) that may transfer to the product

The package must meet the handling and marketing requirements by weight, size, and shape.

The package should have facilities for rapid cooling of the contents. In addition, the permeability of plastic films to respiratory gases may also be important.

The mechanical strength of the package should be largely unaffected by moist material (when wet) or by high humidity conditions.

Ease of opening and closing the package may be important in some marketing situations.

The package should be either lightproof or transparent.

The package must be suitable for retail presentation.

The package must be designed for ease of disposal, reuse, or recycling.

The cost of the package should be as low as possible in relation to the price.
Watch Lecture Video Part 1st
Watch Lecture Video Part 2nd
Packaging material for fruits and vegetables
Fruits and vegetable packages can be mainly classified into two types
Consumer/retail pack

Transport/bulk pack
Consumer/retail pack:
Consumer packages are smaller in size and designed to hold half a dozen to 1 dozen fruits or half to 2 kg of vegetables. There is a wide variety of packaging materials and forms available to be used as consumer packs. The selection criteria of packing material for consumer packs depend on the marketing characteristics of the product. The most commonly used packaging materials for consumer packages are:
(1) Flexible plastic films:
Various types of flexible plastic films LDPE (Low-Density Poly Ethylene), PVC (Poly Vinyl Chloride), PP (Poly Propylene), and cellulose acetate films are used for packing. These films are mostly used in the form of pouches in which holes are made at regular intervals for respiration. These are available in various thicknesses and grades and can be used to control the gases inside the pouch. LDPE is the most widely used material.
(2) Trays with overwrap:
The packing tray is usually made of molded pulp tray or plastic material such as PVC and PP. The product is placed in separate holes to protect the product from abrasion and injury during transportation. These trays also provide cushioning to the product.
Overwrap film is a transparent, food-grade, odorless plastic film that has the nature of sticking to the packaged product when wrapped. This film does not require hot air to stick to the product. This film is usually made of LDPE or PVC. These films are semi-permeable and assist in the exchange of gases for the respiration of the product.
(3) Plastic punnets: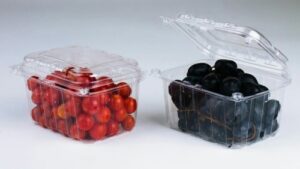 These are sturdy, versatile, clear, shiny containers that provide visibility to the product and holes for ventilation, keeping the product fresh.
These containers are food-grade, odorless, light in weight, recyclable, and also provide good product presentation. These are made of either PET (Poly Ethylene Terephthalate), PVC, or PP.
(4) Plastic net bags:
Plastic net bags have the flexibility to expand and adjust to all sizes and shapes of the product. These bags are available in roll form or in precise lengths with widths of 200mm – 400mm. By circulating air in and around the product; net bags increase the freshness and shelf life of the product. These packs prevent product spoilage and wastage by eliminating condensation. Clear visibility in these packs gives a boost to sales from the natural colors of the product. These are generally made of HDPE or PA (polyamide).
(5) Foam sleeve:
This is a plastic tubular film made of polyethylene foam and available in various colors, diameters, and lengths. It can be easily slipped over individual fruits in a gummy form. It acts as cushioning and protects fresh produce from abrasion and scratches during transport. It is clean, non-toxic, and odorless.
(6) Wrapping shrinkable film:
Films such as polypropylene, polystyrene, polyethylene, and rubber hydrochloride can be converted into shrink films by molecular orientation methods. After the shrink film is applied to the filled tray or tubular, the package is passed through a heat tunnel to shrink film on it. This keeps the object stable to reduce the possibility of physical damage during handling.
   2. Transport or bulk packs:
Transport or bulk packages are designed for long-distance transport in capacities ranging from 5 kg to 20-25 kg. These packs have to withstand impact, compression, and vibration during transportation.
Rigid such as wooden boxes, corrugated fiberboard boxes, plastic boxes, and flexible containers such as plastic sacks are mainly used for transportation or bulk packing. Along with these materials, some traditional materials jute (jute sacks) and baskets made of woven strips of leaves, bamboo, plastic, etc. are also used.
(1) Natural materials
Baskets and other traditional containers made of natural materials – bamboo, straw, palm leaves, etc. are used in developing countries. If containers are made well they can be reused which generally reduces both raw material and labor costs.
Dis-advantages:
1) They are difficult to clean when contaminated with decaying micro-organisms.
2) They lack rigidity and are also misshaped in long-distance transportation.
3) They do not load properly due to their size.
4) They can cause pressure damage when tightly packed.
5) They often have sharp edges that cause wound and piercing damage.
(2) Wooden boxes/Crates:
Traditional baskets have been replaced by wooden boxes as they provide better protection to fresh produce against hazards during transportation. They have high puncture resistance.
Wooden crates are rigid and reusable and, if made to standard sizes, therefore can be loaded easily into trucks.
However, nowadays efforts are being made to reduce the use of wooden boxes as it encourages deforestation.
Dis-advantages:
1) They are difficult to clean enough for more than one use
2) They are heavy and expensive to transport
3) They have sharp edges, splinters, and protruding nails that require some sort of bedding to protect the material.
4) Nails hurt the product during long transportation.
5) They take up more space and are heavier.
(3) Card board (fibre board)/corrugated fibre board boxes:
These containers are made of solid or corrugated cardboard. The types that are closed with a fold-over or telescopic (detached) top are called boxes or cases. The shallow and open-top ones are called trays. Boxes that have a folding opening and closing that lie flat and are installed by the user. Installing and closing boxes requires tapping, affixing, stapling, or fixing interlocking tabs.
These are used to transport tomatoes, cucumbers, and ginger. They are easy to handle, light in weight, come in different sizes, designs, strengths, and different colors which can make the product more attractive to the consumers. These have good cushioning properties, low cost, reusable, easy setup and good printability on the outer surface of the board, smooth and non-abrasive surface.
Ventilation can be provided by punching holes. Since these boxes tend to deform from moisture, they are nowadays laminated with a plastic film such as LDPE, PP, or PVC. Plastic corrugated boxes made from PP and HDPE are replacing CFB boxes partly because of their lower weight-to-strength ratio, higher level of water resistance, and is reusable. However, its cushioning properties cannot be compared to a CFB box
Dis-advantages:
1) If they are used only once, they can cost more.
2) They are easily damaged by careless handling and high stacking
3) Weak, and become damaged when exposed to moisture
4) These boxes are often less sturdy than wooden or plastic boxes, although trays of various thicknesses are very widely used.
5) They can be ordered economically only in large quantities; Small quantities can be expensive.
(4) Moulded plastic crates:
Reusable crates molded from high-density polyethylene are widely used to transport products. They can be made according to almost any specification. They are strong, hard, smooth, easy to clean, and can be assembled empty to save space and stacked when filled with produce. The collapsible crates reduce storage space requirements and transportation costs when empty. Normally their capacity is between 20-40 kg.
 Dis-advantages:
1) They can be produced economically only in large numbers but still they are expensive.
2) They have to be imported into most of the developing countries, increasing the cost
3) They often have many alternative uses (such as wash tubs) and therefore have high theft rates.
4) They require a tight system and control for regular departure and return
5) They deteriorate rapidly when exposed to sunlight.
(5) Natural and synthetic fibres:
Sacks or bags for fresh produce can be made from natural fibers such as jute, sisal, synthetic polypropylene, polyethylene fibers. 'Bag' usually refers to small containers up to a capacity of about 5 kg. They are woven into one texture and more than one type of fiber can be used. Natural nets usually have a capacity of about 15 kg while synthetic nets are of greater capacity. Bags or sacks are mostly used for products that are not easily damaged such as potatoes, sweet potatoes, onions, but these crops should also be handled with care to avoid injury.
These are very useful due to their low cost, high strength, reusability and require less space even when empty.
Dis–advantages
1) It is less rigid and can damage the handling material.
2) They are often too large to be handled with care; Dropping or throwing the sacks will cause serious damage to the material.
3) If the sacks are finely woven, there is poor ventilation.
4) They can be so smooth in texture that the stack becomes unstable and collapse.
(6) Paper or plastic film:
Paper or plastic film is often used as a thin layer in packing boxes to reduce water loss from the material or prevent friction damage.
Paper sacks can have walls of up to six layers of kraft (heavy wrapping) paper.
These can have a capacity of around 25 kg and are used for relatively low-value products. The top can be closed by machine sewing (recommended for large-scale crop production) or by twisting the wire around the top through a simple tool in the field.
Dis-advantages:
1) Paper walls are permeable by water or vapors and gases (walls can be waterproofed by applying plastic film or foil)
2) The heat from sacks of fresh produce can slow down, causing damage to fruit or leafy vegetables.
3) Plastic film bags or wraps are used because of their low cost, widely used in fruit and vegetable marketing, especially in consumer packs.
All Types of Horticultural Crops